Holo Welcomes AM Entrepreneur David Benhaim to Board of Directors
Metal additive manufacturing company Holo expands its Board of Directors with an entrepreneurial leader and looks forward to next phases of growth.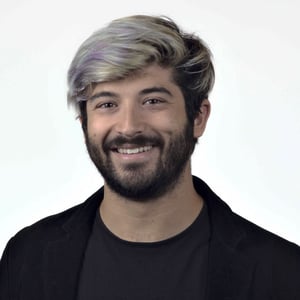 NEWARK, CA, USA, January 31, 2023 -- Holo, the metal additive manufacturing (AM) company, today announced the addition of David Benhaim to its Board of Directors. Benhaim is a successful entrepreneur with high-profile leadership experience in the AM industry.

"We're very excited to have David join our board as we enter this growth phase for Holo," said Hal Zarem, CEO of Holo. "He is one of the most successful entrepreneurs in this industry and he's been through this before."

In 2013, Benhaim co-founded composite and metal 3D printing company Markforged, which was taken public (NYSE: MKFG) in 2021. He also advises early stage deep technology companies leveraging cloud-based software, artificial intelligence, and connected hardware to disrupt fields like life sciences, and accessible robotics. He has a deep background in software,
graduating from MIT with a Bachelor of Science in Computer Science and Engineering, and from which he co-founded his first company.

"Holo has built a technology platform that enables 3D printing of fine-featured metal parts with the precision and surface finish to make them production-worthy as printed. When I saw that, I
realized that this company can take digital manufacturing of metal parts to the next level," said
Benhaim.

Holo, which 3D prints highly-precise metal parts in prototype to production volumes for customers' exacting requirements, is scaling capabilities and setting new expectations for additive manufacturing. In order to take its place in an increasingly noisy marketplace, the company is prioritizing a strong strategy as a focused vertical supplier built on its reliable, repeatable, and scalable manufacturing technology, PureForm™.

Holo's PureForm™ technology produces parts with features smaller than 50 microns, holding tight tolerances across a wide variety of sizes. With this precision and MIM-like surface finish, Holo's parts generally do not need post-processing, further reducing cost to the end customer. As demand continues to rise for complex metal parts, Holo is poised for growth.

The expansion of the Holo Board of Directors indicates the company's investment in its future and the validation of industry veterans who understand its unique value proposition.

"It speaks highly of the technology and business that we have built that David has chosen to join Holo. We're looking forward to adding his experienced perspective and industry knowledge as we enter our next stage," said Zarem.

About Holo
Holo enables digital manufacturing at scale. The company's patented PureForm™ additive manufacturing process combines proprietary photolithographic 3D printing with proven metal injection molding (MIM) backend production. Materials include stainless steel and copper, as well as more challenging alloys and ceramics. Holo supplies parts directly to customers, from rapid prototypes through production. The company's scalable platform is ramping up to produce millions of high-performance parts in Holo's Northern California facility and with partners. Learn more at holoam.com. Reach out at holoinfo@holoam.com.